Anti-Aging Program
Why do people need an Anti-Aging program?
Simply put, so you can be the best that you can be.
We all need help staying on track, sometimes we don't even know which track we should be on! You would never get where you are trying to go if you kept driving in the wrong direction. Life is indeed short - let's make the most of it!
A good anti-aging program...
Can help detect, prevent, and reverse degenerative conditions like heart disease, cancer, diabetes, osteoporosis, stroke, high blood pressure, osteoarthritis, autoimmune disease and glaucoma.
Our anti-aging program has also been successful in helping patients who suffer from chronic fatigue syndrome and fibromyalgia.
We also offer several therapies to reduce wrinkles and maintain skin suppleness like Botulinum A (commonly known as Botox), fillers, and Stop-Aging Skin Therapy.
Learn more about Anti-Aging
Dr. Tuakli's introductory comments on Anti-Aging taken from one of her seminars will give you more insight into the scope of Anti-Aging.
This is an edited version of a longer video.
Watch the full version here
Lifting the Veil of Menopause - A Natural Solution
Dr. Tuakli's book is now available!
You can buy it at the office or click here to order online.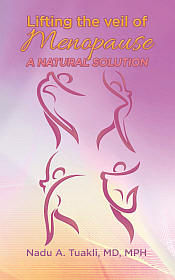 Menopause is a challenging and complex life process that has impacted the quality of women's lives in ways the medical field has not yet fully come to terms with. Dr. Nadu Tuakli has written "Lifting the Veil of Menopause" (published by Xlibris) in order to address and demystify the challenges of menopause in the twenty-first century.
The main focus of the book is providing women with information that will allow them to be their own best advocates on how to maintain and sustain healthy and vibrant lives as they go through the aging process. It is particularly relevant at this time when so many women of this demographic are achieving prominent leadership roles.
This book uses real life examples drawn from Dr. Tuakli's medical experience treating and listening to thousands of women facing hormonal challenges. This book will enlighten and inform and help lift the veil of confusion about menopause and the use of hormones. By so doing it will reduce the fear and shame that so many women seem to experience during this time of life.